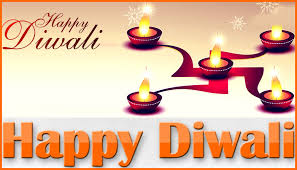 Deepawali is the festival of light celebrated by the Hindu community people in India and around the world. This is also India's the biggest national festival accross the country. Diwali means light up clay lamps or 'Diyas' which celebrated by Hindu, Sikhs, Jains, and Buddha community in the world. Deepawali stand for "row of lamps or Diyas". This year Diwali will held on 11 November 2015 (Wednesday) on the month Kartika according to Hindu Lunar calender. This lighting festival is celebrated with great flavours of by almost every cities, towns, villages in India. Goddess Laxmi Puja is performed before two days in the evening of Deepawali for the blessings of wealth Goddess. Designing lights, decoration of candles and sweets or gifts exchange with the friends and relatives are tradition.
The occasion of Diwali is symbolizing the victory of goodness over evils and lightness over the darkness. Epic Ramayan tells, the festival commemorates the come back of Lord Ram's to his kingdom Ayodhya by completing his 14 year exile. People of Ayodhya celebrated welcome their king Lord Ram with great joyful of lighting Diyas at home. Maa Lakshmi who wife of Lord Vishnu is worshiped for wealth and prosperity. Maa Kali Puja is celebrated in West Bengal, Odisha, Assam, Jharkhand and other cities of India on the Diwali day. Another story says Lord Sri Krishna conquered the Asura Naraka and believed that helped to free the prisoners which observed as victory of God over the evil in South Indian states of Tamil Nadu, Karnataka, Andhra Pradesh, Telengana and Kerala.
The Punjabi or Sikhs in India celebrate this day as freedom of Guru Hargobind from the jail. People of Jainism celebrates festival of lights as the day of honour Lord Mahavira's attainment of Nirvana. The Buddhists in India believes this festival as annual day of King Ashoka's conversion to Buddhism. Deepawali festival is celebrated by the Indian diaspora in Nepal, Myanmar, Mauritius, Malaysia, Sri Lanka, Singapore, Fiji in the US, UK, Canada, Australia where it is marked as national holiday by their respective Govt.
Biggest shopping markets at time of Diwali, where people buy new clothing, dress, gold jewellery, gifts, appliances and kitchen utensils. Exchange of sweets among friends and relatives and Kids play with bursting of fire crackers. Young girls make Rangoli designs in their schools, colleges and working offices. On Diwali evening the houses are designed with electric lights and decorated with Diyas for Maa Laxmi Goddess of wealth. People start new shop, business and renovations on the auspicious day.
Deepawali festival rituals begin two days and all those days have significance with following traditions as given below.
First Day – Dhanteras
Dhanteras is begging day of festival where the women decorate colourful Rangoli floor of house. This day observed as Maa Lakshmi's birthday. Dhanvantari the Goddess of wealth and property. Diyas or Lamps are decorated all the night to welcome of Goddess Lakshmi. This biggest shopping day for gold, silver jewellery and products.
Second Day – Naraka Chaturdasi (Choti Diwali)
Naraka Chaturdasi is known as Choti Diwali. Preparation on full swing of Deepawali by colourful rangoli and house decoration. Women and girls designed hands with Mehendi or Henna colours. Also home-made sweets and cakes are prepared in home for Diwali festival day.
Third Day – Lakshmi Puja
Lakshmi Puja is the main Deepawali festive day, where all family members with new clothing. On Diwali night people open doors of house to welcome Maa Lakshmi with Diya lights filled with oil placed in rows. After Puja the exchange of gifts and sweets with relatives and friends. Kids go outside to lighting up Patakhe or fireworks with their friends.
Fourth Day – Padwa
Next of Deepawali is observed as Padwa. Traditionally this day is celebration of mutual love and devotion of married wife and husband with thoughtful gifts. Newly married daughters and husbands are invited for special dinners. Goverdhan Puja is performed by devotees to honour of Lord Krishna. Diwali is marked as new year, where business start with a new financial year with Goddess Lakshmi's blessings.
Fifth Day – Bhai Duj (Bhaiya Dooji)
Two days after Diwali, the Bhai Duj (Brother's second) is celebrated as loving relationship sister and brother which similar to Raksha Bandhan. Sisters perform Puja Arati with prayers for good luck of their brothers. In return the brother or Bhai gives gift to his sister.
LoveVivah.com Indian matrimonial services wishing your family members prosperous Happy Diwali. Young brides and groom can register online to search their life partner for marriage.