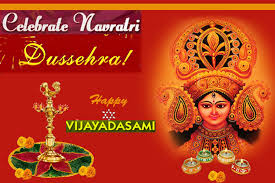 This festival of Navratri (Nine Nights) for Goddess Durga is celebrated by people of India. For these fesival of nine days, nine forms of Maa Durga are worshipped with full of tradition. Finally the tenth day is known as Vijayadashami or Dussehra. This year Navratri starts from 13th October to 22nd October 2015 with spiritual prayer and fast with worship of Goddess Durga. Diwali is always comes 20 days after Dussehra festival. Vijayadashami is public holiday in India where people celebrated it as one of the most important festival of the year. It is also celebrated in neighbouring countries Nepal, Bangladesh and Sri Lanka.
On this Dussehra the victory of Maa Durga celebrated by killing Mahishasur the demons king. Also on the same day, Lord Rama defeated the demon king Ravana the ten-headed which described in the epic Ramayan. Special Garba dance is organized for the celebration of Navrati where both boys and girls perform dance devotional with songs. It is most popular in India and Indian communities living around the world. Devotees eat one time food during night after giving prayers to Goddess Durga. Navrati foods are available in various hotels, restaurants throughout the 9 days of celebration. Eating of non-veg foods, onion and garlic and are strictly avoided for Navaratri foods.
In this period of 9 days people worship Lord Rama and organise the RamaLeela drama as the story of the Ramayan. On the Dussehra night the fairs and large parades with effigies of demon king Ravana, Kumbhakarna and Meghanad are burnt to mark the victory of Lord Ram. Special functions are organised at in cities of India with the festive mood of entertainment. Lots of cultural functions with traditional values are arranged the family and home. This also time of release of big cinemas of Bollywood and other regional film industry. This is widely celebrated every parts of India including states of Gujarat, Maharashtra, Rajasthan, Delhi with Navratri colours. In the eastern states like West Bengal, Odisha, Assam, Manipur the festival is mostly celebrated as Durga Puja or Dusshera.
Vijayadashami is also widely celebrated in the south Indian states of Tamil Nadu, Karnataka, Telangana, Andhra Pradesh and Kerala. This is also referred as the auspicious day to begin with new business, education, buying new house and new company start-up with blessings of Goddess Durga. The significance of victory of Maa Durga over Mahishasura or victory Lord Rama over Ravana which marked as is victory of good over the evil. Durga Puja pendals are decorated with idols of Durga in the cities. People buy new clothings for family members and exchange sweets with relatives. Devoties apply red Tilaka on forehead and prayers with songs in the temples.
LoveVivah.com matrimony sites India wishing good family time with your soul mate. We can help you to search brides and grooms for your wedding. Happy Vijayadashami or Dussehra!